VIDEOFIED CT201 2-WAY Door/WindowI Contact With Wired Input (White)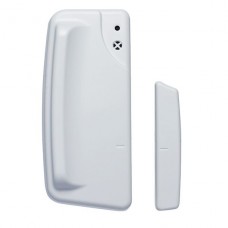 Product Code:
VIDEOFIED CT201 2-WAY
Availability:
In Stock
Price: 56.00€
Ex Tax: 47.06€
Features
- S2View - Spread Spectrum, Videofied, Interactive, AES Encrypted Wireless technology provides optimum signal integrity and security.
- Supervised - transmits a check-in/status signal every 8 minutes indicating open/closed state, tamper conditions, serial number, date of manufacture, software revision and battery status.
- Dual tamper - provides detection for both wall and cover tamper.
- External input - accepts normally closed (NC) dry (no power) circuits from standard hardwire intrusion devices, including fast response devices.
- Three working modes: internal reed switch only, external input only, internal switch and external input.
- Lithium battery - up to four years.

Applications
Residential
- Doors
- Windows
- Cabinet doors/drawers
- Other similar openings
Commercial
- Doors
- Windows
- Overhead garage doors
- Cabinet doors/drawers
- Other similar openings

Technical Specifications

Electrical Data
Panel Compatibility XL, XLL, Visio, XT, XT-iP, XV, XV-iP, XTO
Power requirements
Nominal Voltage 3.6V
Low battery limit 2.7V
QTY and Battery Type One 3.6V Lithium battery
Battery type SAFT Lithium, LS14500
Battery life Up to 4 years

Current Consumption
Max 70mA
Axis of detection Three axis (X, Y, Z)
Opening Detection Distance 2.3cm
Closing Detection Distance 2.0cm
RF technology S2View
Radio type Spread Spectrum Bidirectional RF
Operating frequency 868 MHz
Transmission security AES algorithm encryption
Supervision Polled signal every 8 minutes
Antenna Integrated
Tamper detection Wall and cover tampered
External terminal input type Normally closed (NC)
Working modes 1-internal reed switch only
2-external input only
3-internal switch and external input
Mode selection Jumper wire on 3-position terminal block
Maximum external wire length 16 m
Operating temperature -10 - +40 C
Maximum relative humidity 75%, non-condensing

Physical Data
Material Plastic: ABS - ULV0
Magnet Alnico 5
Dimensions (LxWxD) 80 mm x 35 mm x 23 mm
Weight: Detector 40 g - without battery

Installation/Mounting
Detector
One screw secures detector to base; two screws secure detector to mounting surface.
Magnet
Two screws secure magnet assembly to mounting surface.
Spacing
Maximum 10mm gap between detector and magnet.